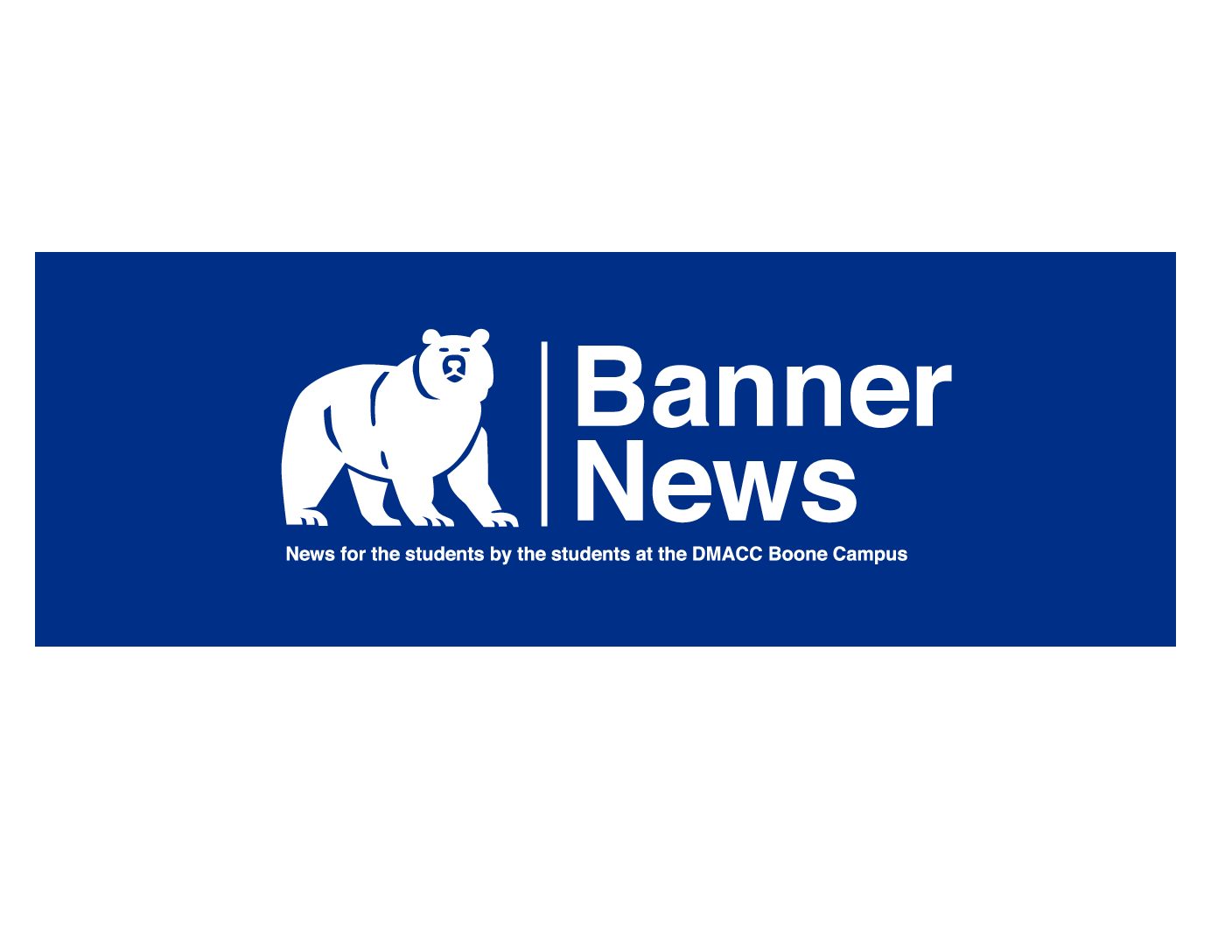 Banner News is a student-led digital publication advised by journalism instructor Lisa Kaho'okele. While Banner News is its own publication, the work for Banner News takes place in the course titled Digital Media Production (JOU 124). This class is not just limited to writing and revising news stories, but also the production of sound, video, advertising, social media and more. According to DMACC's own course description, Digital Media Production is: "An introduction to publishing online using digital equipment and software. An emphasis will be placed on journalistic style using writing, photography, video, and audio. May be repeated for an additional three semesters for a total of 12 elective credit hours."
Digital Media Production is not a very large class, and in fact had three students in each semester of the 2022-2023 school year. The size of the class allows for more 1-on-1 time with peers and the instructor for help, advice and work to be completed. This class allows for free work time throughout the period for the ability to produce the best possible content. Students will have the freedom to choose what they would like to work on each week alongside the consensus of the class. Students will have the ability to work on multiple types of digital projects including, podcasts, video and editing, news stories, editorials, social media and more.
Each student is important and unique to Banner News, and the wide range of production allows for students to do something that they enjoy. My personal favorite part about being a part of Banner News is that I have the freedom to do whatever sort of project I would like to do. I am a huge sports fan, and love to write and talk about sports. While being in Banner News, I have gained so much experience that will help me in my future and my career. Each staff member had something to say about their favorite part of Banner News.
Former DMACC student Hailey Clubine participated in Banner News for four semesters, and they handled the position of Social Media Coordinator. While reflecting on Banner News, Hailey said, "If I were to be forced to say my favorite part about Banner News, I could come up with something cheesy like all the people and the opportunities it gave me to be myself and figure that out. But, honestly, that's kinda the truth. When I started, Banner started small, so the team was able to actually talk and interact with each other which I've never experienced before but I'm glad I have."
Video Production and New Social Media Coordinator Camry Jones added, "Pondering about my favorite thing when it comes to being a part of the Banner News team, I would say it's the individuality that comes with the team. You are able to express yourself when producing media from articles, videos and even podcasts. With the Banner News team quite small, it also lets you bounce your ideas off of others to create your media!"
Layk Nollen was the Editor & Chief of Banner News the past two years and completed his final year at DMACC in the spring of 2022. He reflected on Banner News by saying, "Before Banner News, I hated writing with a burning passion. But with time and experience, I feel more confident in my writing abilities. News writing is simple, and pretty easy to get a hold of. My teammates are also a huge plus, as I learned quite a bit from them and from their experiences." 
Last but not least, my fellow Sports Analyst and Podcaster Chandler Twedt noted, "My favorite things about Banner News is that I have the opportunity to explore things, writing about sports topics like the Super Bowls, MLB Lockout, and also making podcast episodes and getting to interview some great people like DMACC President Reb Denson, basketball coach Ben Putz, and English Professor Dennis Thompson. It is a great way to get yourself into journalism and get some experience in this field of work."
Banner News is full of opportunities to interest anyone in the extensive field of journalism. If you or someone you know is interested in joining us here at Banner for the 2023-2024 school year, you can still add the course JOU 124 to your schedule or contact the instructor Lisa Kaho'okele. It's not too late to gain hands-on experience that you will be able to use in your career and your life by joining us here at Banner News, everyone is welcome!